Summer's here!!! But are you one of the many women that dreads Summer dressing because you find it hard to find summer styles that suit your ample bosom ??? Styling a big bust a challenge that I'm often presented with when I work with Personal Styling clients and a question that came up recently when I did a LIVE Style Surgery on my Facebook page. So I thought I'd dedicate a blog post to the topic, especially as the average UK bra size is now a 36DD, but yet mainstream fashion still ignores big boobs.
In the hot summer months, looking cool and chic when you are blessed in the boob department can be a challenge. You can't just chuck on a strappy, floaty dress and go bra-less.
I totally get it. In my early twenties I had enormous boobs. The contraceptive pill plumped them up to a size which was totally out of proportion to my frame. I was so conscious of looking overtly busty that I did everything I could to conceal them. 'Minimiser' bras from M&S were my go-to and I even used to strap them down further with a bandeau top (in addition to the bra!!!)
When I look back, I feel sad that I didn't have the confidence to enjoy my curvier silhouette. Armed with more understanding and knowledge of shape, I now know that the key is to create good proportions. Indeed it is easier when clothing is more structured and covered-up in the Winter, but there are so many current summer styles that women with big boobs can wear and look amazing in.
Here's my top 10 Summer styles that will accommodate and flatter a big bust:
1. Wide Straps
It goes without saying that a supportive bra is absolutely essential if you have big boobs, but the more support you need the wider the bra straps. So whilst dresses with spaghetti straps are off-bounds, there are lots of summer dresses around with wide straps that will conceal bra straps. This dress from Jigsaw is ideal; the vertical stripes and v-neck are both flattering elements for a larger bust, plus it has a gathered waistline and tiered full skirt which will create balance for the upper torso.
2. Shirred Bodice
This shirred dress from M&S will divide opinion for women with big boobs… For some the stretchy, shirred detail will provide too much emphasis, whilst others will love the accentuation and support it provides. The tiered lower half of the dress will provide a nice element of balance for a large bust
3. Button-down Dresses/Jumpsuits
Again these styles tend to have nice wide, bra-concealing straps and in addition to the elongating, vertical line of buttons, the square neck is flattering as it will reduce the visual volume of the bust. The challenge is to find a style that doesn't gape between buttons. This lined-blend, capped sleeve dress from Next has an open back in a style that will conceal a supportive bra.
4. Square or Sweetheart Necks
These are the most flattering shapes on larger busts. Not as revealing as a v-neck, a horizontal or sweetheart shape shows a modest amount of décolletage and the angular lines flatter a curvaceous bust by providing structure. This sweetheart-neck dress from Monsoon also draws the eye to a cinched-in waist and the shoulders (away from the bust).

5. Ruffle Skirts / Wide-leg Trousers
A styling trick to draw the eye away from a large bust is to wear something eye-catching on the lower half of your body. A ruffle skirt is ideal for this technique. Wide-leg palazzo pants also work too, such as these below from H&M. Keep the top half really simple (such a black square-neck top) so that the focus is entirely away from the bust.
6. V-necks
V-necks elongate the torso and provide a structured outline on a curvaceous chest. The exposure of the collarbone and décolletage draws the vision up from the bust. This relaxed, linen top from Boden has puff detail at the shoulders to create interest and structure across the top of the torso and the vertical print will elongate the frame.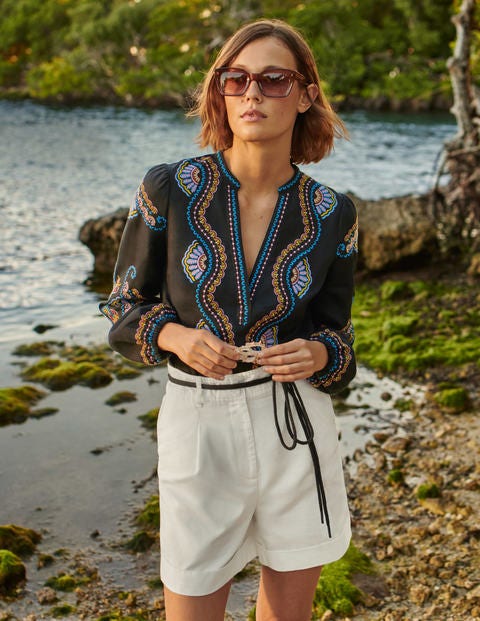 7. Wrap Dresses
A wrap dress is always cited as the busty women's best friend… which is largely true but there are exceptions to this rule. A wrap style may not flatter if it doesn't completely cover a large bust, instead it will create cleavage and therefore emphasize – which is ok, if that's what you want to achieve. If less va-va-voom is your thing, look for loose wrap styles with fluted or kimono-style sleeves like this dress from Superdry. And if you have great legs – get them on show!

8. Kimonos
A loose kimono is the perfect, cooling layer when it's hot and an ideal cover-up if you have a big bust. You can wear your favourite cami-top underneath and not worry about exposing your bra straps. A versatile piece, they make a funky throw-on over jeans – like this kimono from Anthropologie – but are also fab for covering up on the beach too. If you choose a longer line kimono, it will provide a lengthening effect to your silhouette.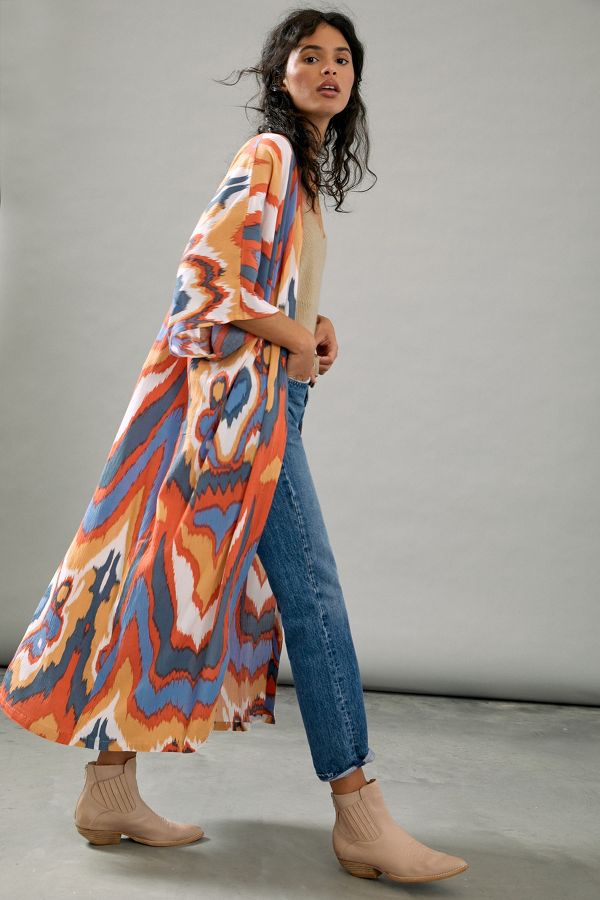 9. Bardot Style
An off-the-shoulder style brings focus to the shoulders and away from the bust. Look out for Bardot-styles which have a large frill layer as this will completely conceal the bust like this polka dot dress from Mango. Adding a belt to this dress would bring emphasis to the waistline, balancing the shape and creating a lovely hourglass silhouette. Check out Fantasie Lingerie for really good, supportive strapless bras and the Jamie Minimising Bra from Next comes highly recommended
10. Ditsy Prints
A small, busy print confuses the eye and is much more flattering for a big bust than a bold print. Bold shapes will draw the eye in to focus directly on the large shapes. Ditsy florals and leopard prints are ideal. This jumpsuit from Dorothy Perkins fits the bill with a wrap front and flattering waist detail.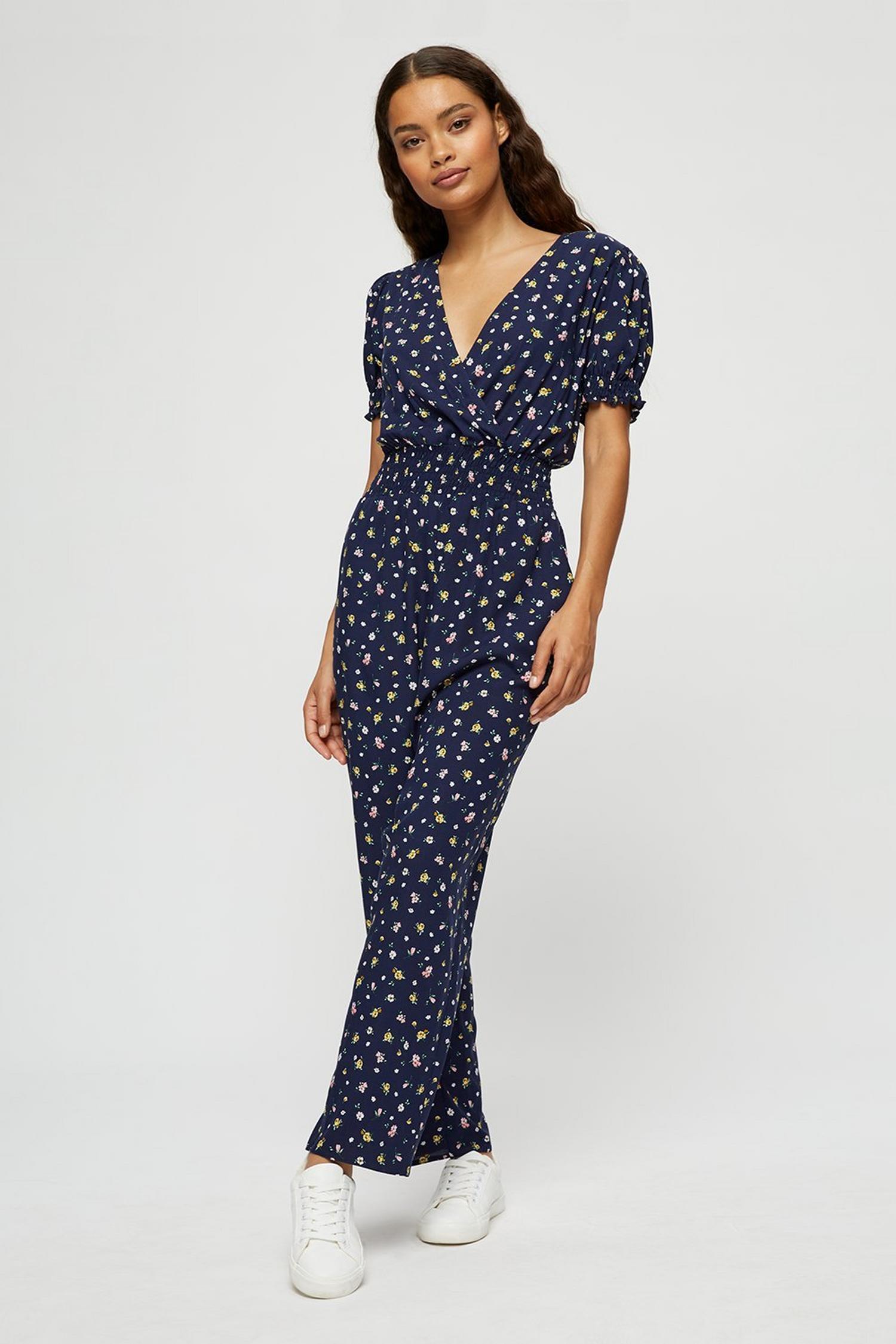 I hope that this post has proved that if you have big boobs, you can still wear many of the current summer trends. Remember – this is just a guide. Depending on your proportions, you may feel that some of these options don't work for you. Whether you wish to conceal or emphasize, it's important to do it on your own terms and wear whatever makes you feel good!
I asked Midsize Fashion Blogger – Maxine and Curve Model – Jayde to tell me about their preferred ways to dress their gorgeous busts.
Maxine, size 34H
Wrap dresses are the friends of larger busted ladies. They create a nice V and accentuate the waist. I often wear a vest underneath to give me a bit of comfort and prevent unwanted gaping. I also like smocked/shirred bodices which are very on trend right now. They have a strange reducing effect that was quite unexpected. I also like frills. Most larger busted ladies avoid frills but they actually hide a larger bust and distract the eye. I don't avoid close fitting, stretchy tops. It's a mistake to wear things that are too loose on a large bust, it has the opposite effect to what you're looking to achieve. Fitted styles are actually more flattering – provided you are wearing a good bra! I like a side sling bra as it pushes the breast forward in line with the rib cage instead of making the bust look wide. My favourite brands are Fantasie (including their larger size range called Elomi), Cleo by Panache, the Envy bra by Panache and for cute prints Freya. My recommendation for a strapless bra is the Aura by Fantasie. It has moulded cups and gives excellent support and a good shape whilst remaining comfortable.
Follow Maxine on Instagram: @dressedtothemax
Jayde, size 40G
I am a big fan of wrap dresses, I find that there is something very sexy and flattering about them especially on my body type. I am a firm believer of if you got it flaunt it which basically means anything that has a bit of cleavage I'm up for! I also find that a square neckline is very much suited and compliments my fuller bust. I tend to stick to what I know and what works for me so when it comes to bras M&S is my go to. I recommend their multi-way strapless bra which is stylish, comfortable and sexy. I also occasionally shop from F&F and George at Asda and find that their bras are just as supportive.
Follow Jayde on Instagram: @jayde_jj3

If this post speaks to you, I'd love to know your thoughts. Are there any other styling tricks or shapes that work for your large bust? Please leave me a comment or contact me directly.
If you'd like some tailored advice with your wardrobe and how to dress your shape – please get in contact about my Personal Styling Services. I'd love to help!
This post contains affiliate links. If you click through and purchase an item, I will earn a very small commission.